Watches made by members of the Abbott family
Many Abbotts in the Farnworth, Widnes and Prescot areas worked in the clock- and watchmaking industry in the 19th century. The watches shown below are examples of watches made by John and William Abbott.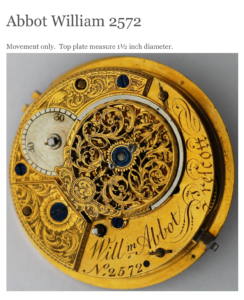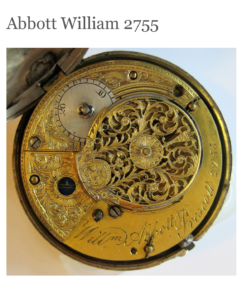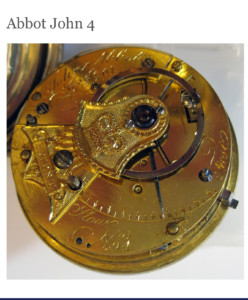 "Images, with permission, from the Prescot Section of the Lancashire Watch Company website www.lancashirewatchcompany.co.uk"
A second watch made by John Abbot has recently come to light, numbered 3820 and dated 1822, but at the moment no photograph is available.
Watchmaking occupations in the Abbott family
Occupations frequently found in census and church records for Abbotts include clockmaker and watchmaker, watch movement maker, watch movement polisher, watchmaker-polisher, watch pinion maker, watch fuzee maker, watchmaker (barrel & fuze).
Here are some Abbott watchmakers from my family tree:
    Nathan Abbott, born 1733 watchmaker with apprentices, John Gerrard 1770 and Daniel Whitfield 1771
    Thomas Abbott, born 1763 watchmaker employed two apprentices in 1796
    John Abbott, b 1777, watchmaker (my gggg grandfather)
    John Abbott born 1801, watch movement maker, Peel House Lane. (my ggg grandfather)
    John Abbott born 1828, watch movement polisher in 1851 census, age 23 and in 1871 census (my gg grandfather).
Watchmaking was a cottage industry and the journeyman* watchmakers often employed apprentices, including their own family – wife, daughters and sons. Above we see three generations of Abbott watchmakers. By 1871 few of the Abbotts remained in the watchmaking business, but great great grandfather John Abbott was still going strong.
*A journeyman is someone who has completed an apprenticeship and is fully educated in a trade or craft, but not yet a master. To become a master, a journeyman has to submit a master work piece to a guild for evaluation and be admitted to the guild as a master.
Read more about the Abbott family watchmakers here. (opens in a new window)