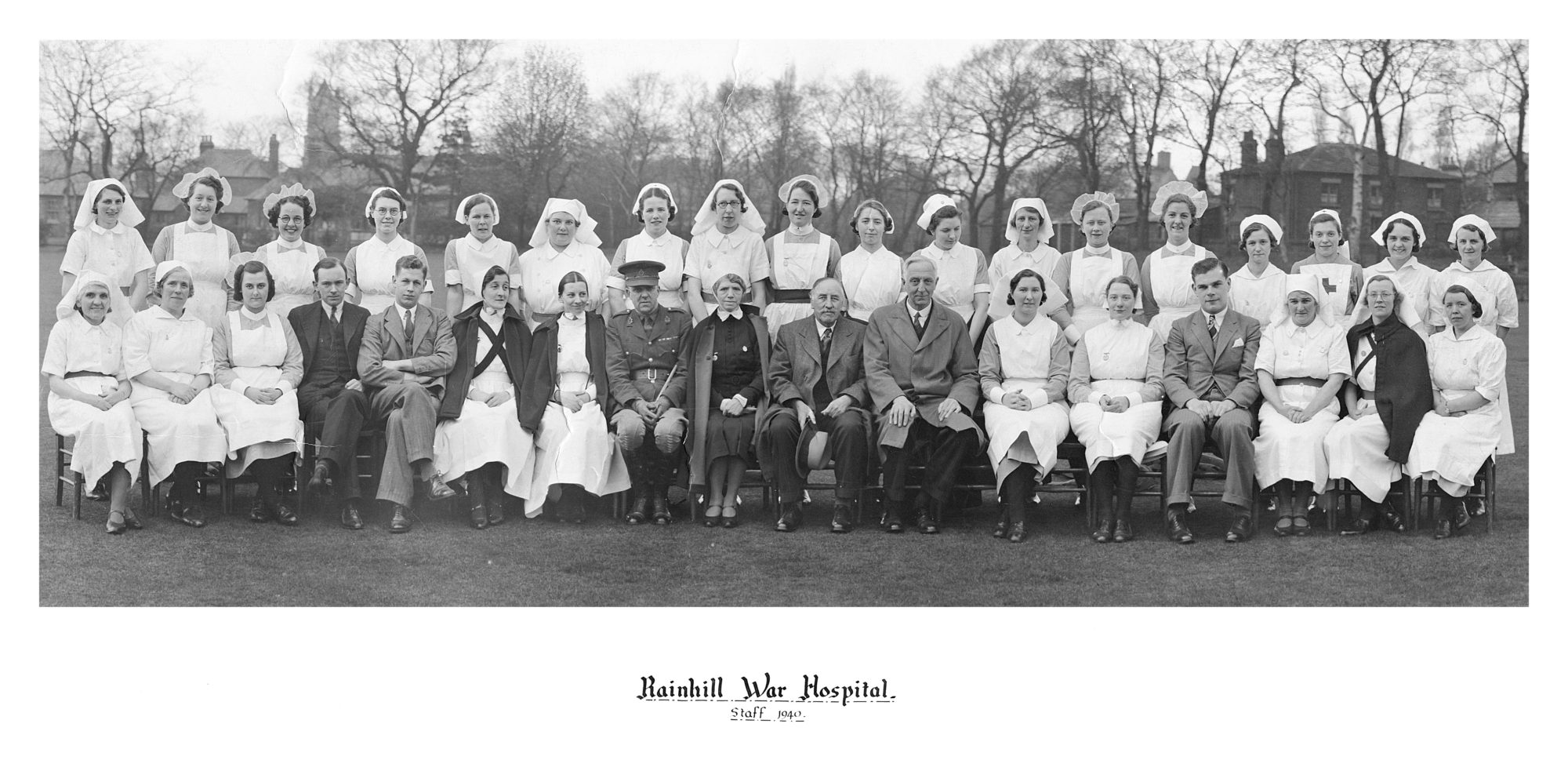 Staff of Rainhill War Hospital, 1940. Minnie Taylor standing far left.
State Registered Nurse
My mother was Minnie Taylor of 27 Gloucester Road, Farnworth, Widnes.  On the 20th of January 1936 she received a certificate from Lancashire County Council which states that she had successfully completed three years of training at Whiston Public Assistance Infirmary, recognised Training School for Nurses, which she completed on the 31st of October 1935.  She became a State Registered Nurse in November 1935, at the age of 25.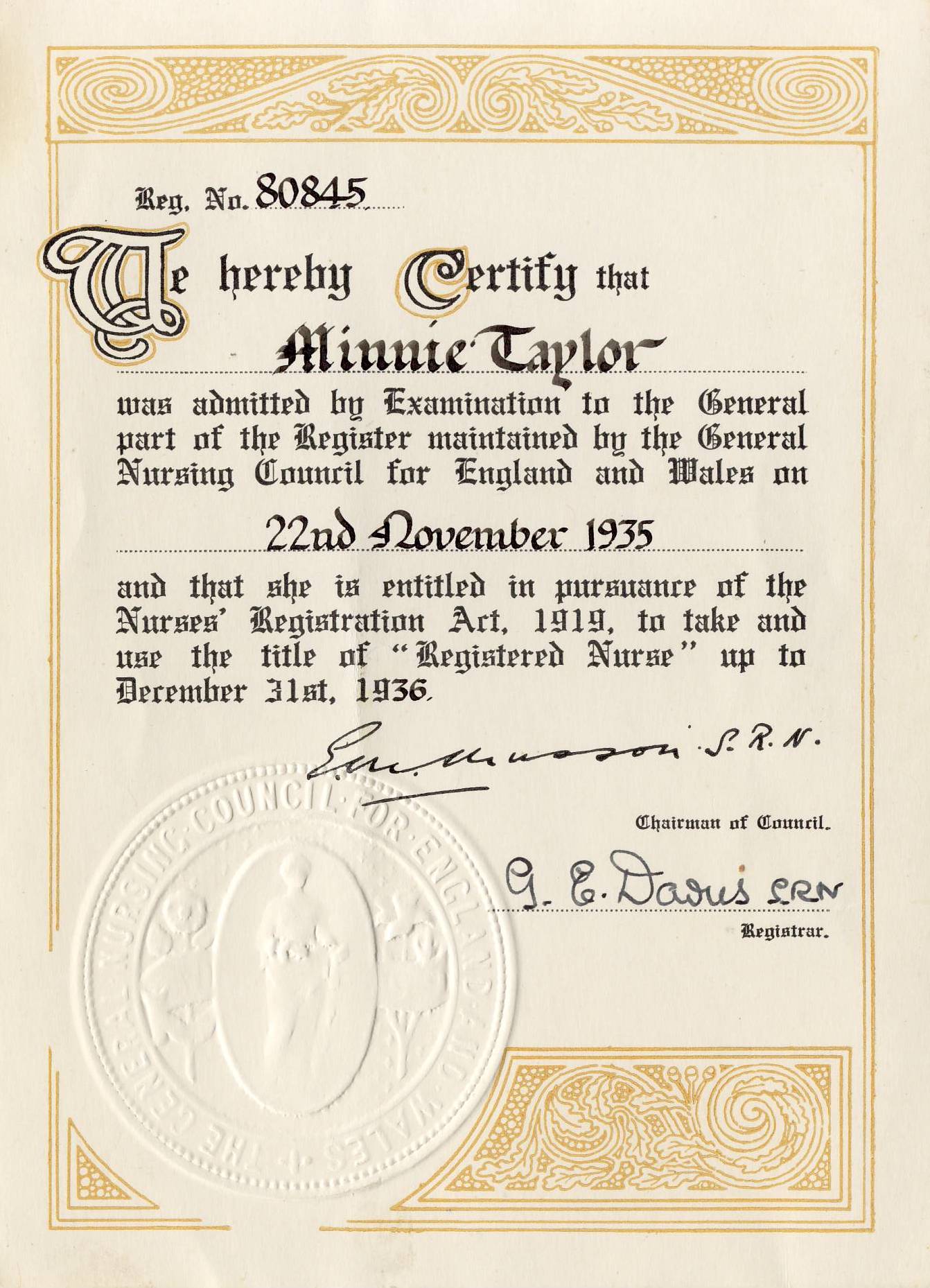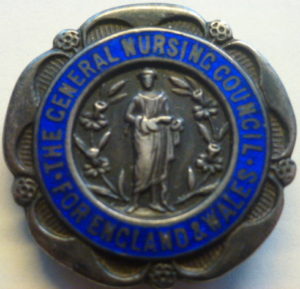 Whiston Infirmary Prescot
A year later she started working at Whiston Infirmary in Prescot.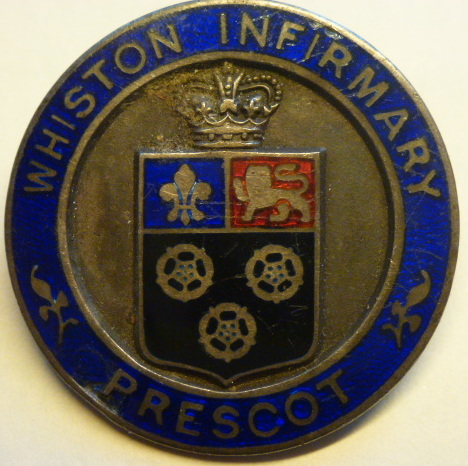 The original hospital buildings from 1843 housed the Poor Law Institution – the Prescot Union Workhouse and Infirmary. Whiston Hospital is still the major hospital in the area.
The Village of Whiston is located  nine miles east of Liverpool, one and half miles west from Rainhill and about three miles north-west of  Farnworth Village and is part of the Parish of Prescot, which also included Farnworth. Early references show the township as Quitstan (1245); Wystan, Quystan (1278); Whystan, Whytstan, Whyghstan (1292); Quistan (1346); eventually reaching its present spelling of Whiston around 1355.
Whiston is historically linked with coal mining, the first reference to which appeared in 1521. Many shafts were sunk around the area including those at Carr Colliery of 1760's; Whiston Colliery of 1802; Halsnead Colliery of 1802 and the most familiar pit within the area Cronton Colliery, which was begun in 1913. The collieries made use of branch railway lines and canals constructed for transporting coal to a widening market.
Mum's War Effort – Rainhill War Hospital

The group photograph above sees Mum in uniform together with the other staff at Rainhill War Hospital in 1940, where she was seconded from Whiston Infirmary. She worked there tending to wounded soldiers and POW's until after 1945, probably for a few years but no later than 1950. I was born at Whiston Hospital in 1945 and then was taken care of at the hospital day nursery. According to Mum I cried so much that they put me in the linen cupboard!
The following story describes how one nurse experienced the situation at the War Hospital:
"Nicky Rutter, my mother, was a paedriatic nurse in Manchester at the outbreak of war. Even hospitals were evacuated from the large cities at this time, and she and her colleagues were evacuated to Rainhill. There was a large amount of resentment among her colleagues as they were sent from a purpose-built new building to a converted former workhouse. But, after a long fight to get rid of the cockroaches the girls settled down to the new routine and even began to enjoy it. Alas, the new hospital was perhaps even more vulnerable to bombing in Rainhill than it would have been in Manchester and many night were spent down in the shelters. The first rush came when the ward was given over to the men evacuated from Dunkirk, and later there were German prisoners of war to cope with."
Source; 'NcRttr, WW2 People's War is an online archive of wartime memories contributed by members of the public and gathered by the BBC. The archive can be found at bbc.co.uk/ww2peopleswar'
History
Rainhill War Hospital was housed temporarily in an annex to Rainhill Hospital, a large psychiatric hospital outside St Helens. The annex was originally built in 1938 as a new Admissions Hospital (the Benedict Clinic). During the 2nd World War it was used to accommodate more that 100 patients admitted from the armed services.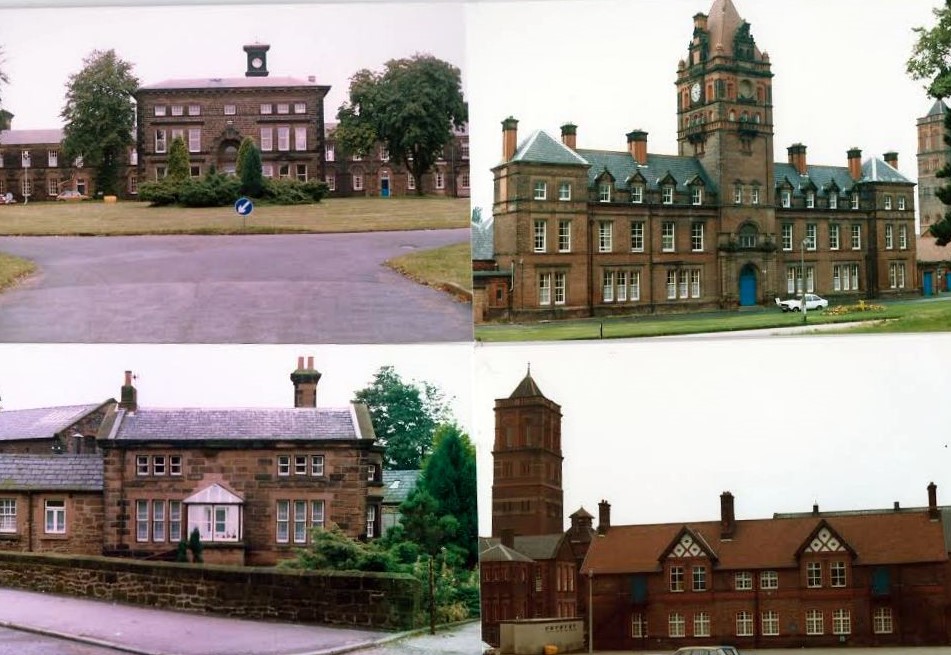 Read more about the history of Rainhill Hospital here: History of Rainhill Hospital Anne Slater
Patients and Staff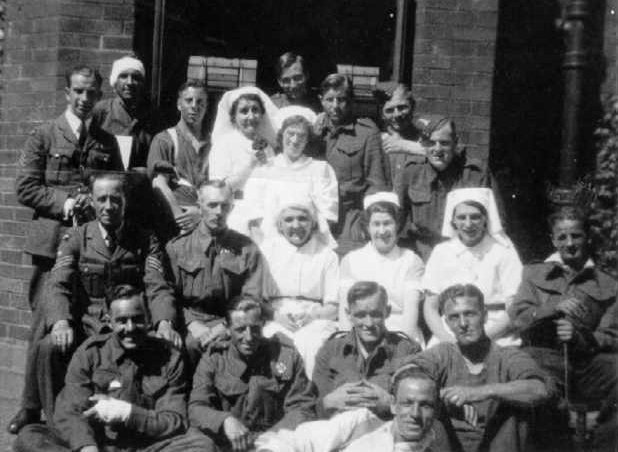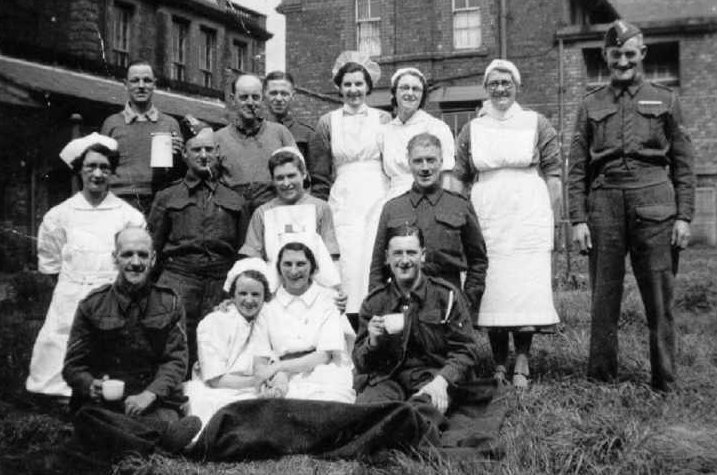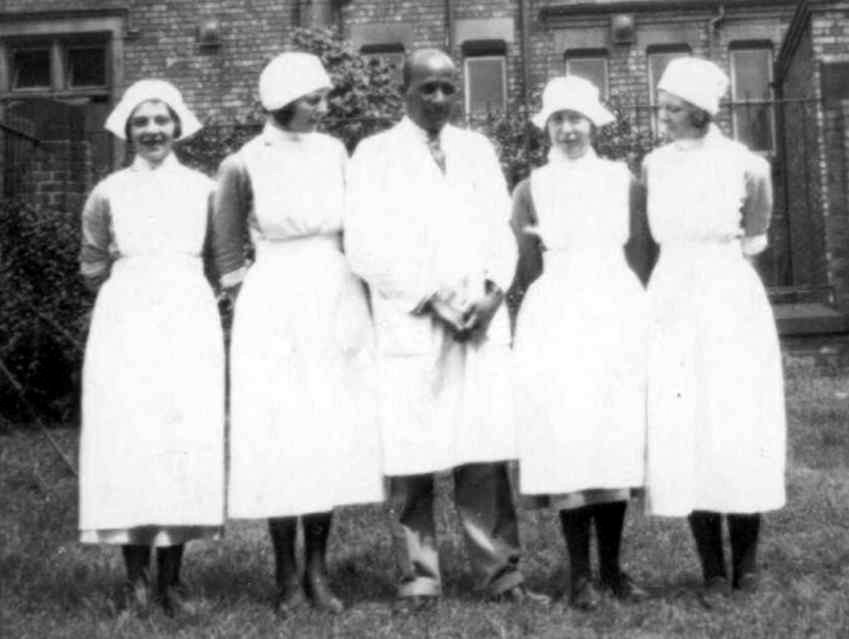 Private Life Before and After the War
Minnie Girl Guide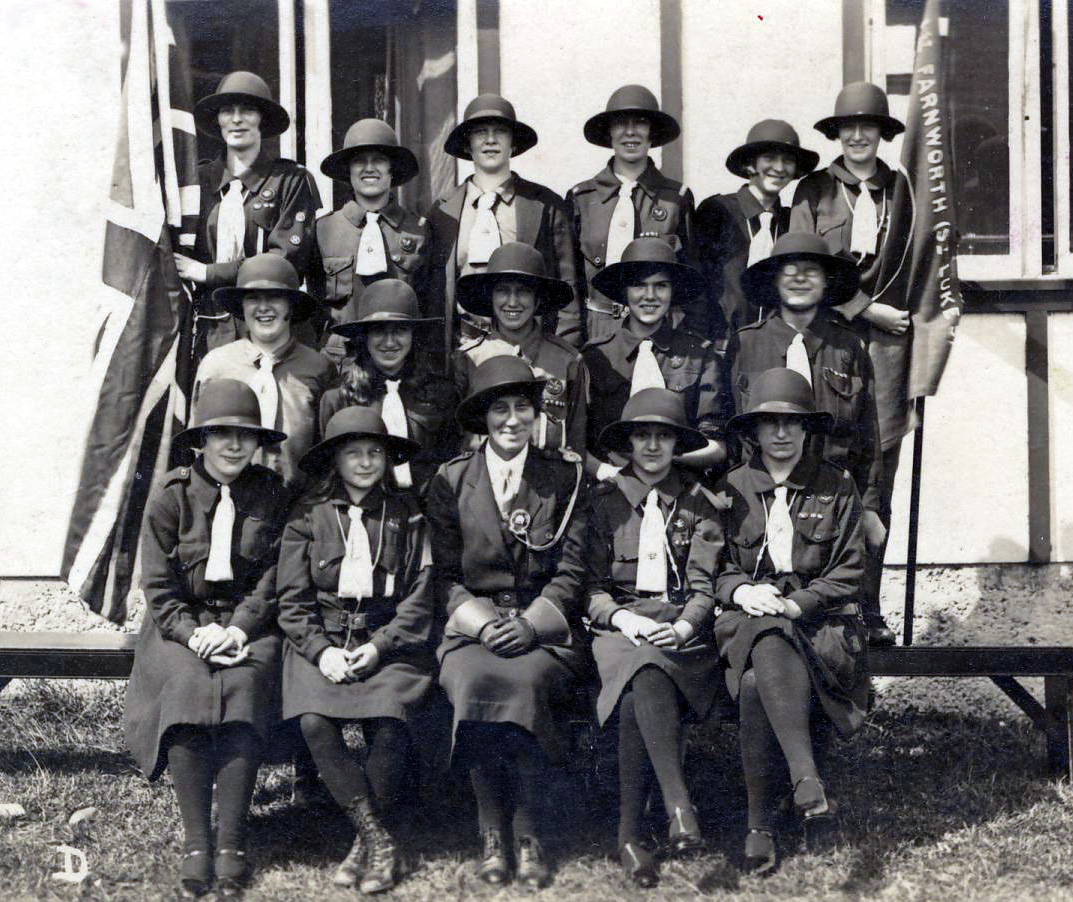 Minnie Bridesmaid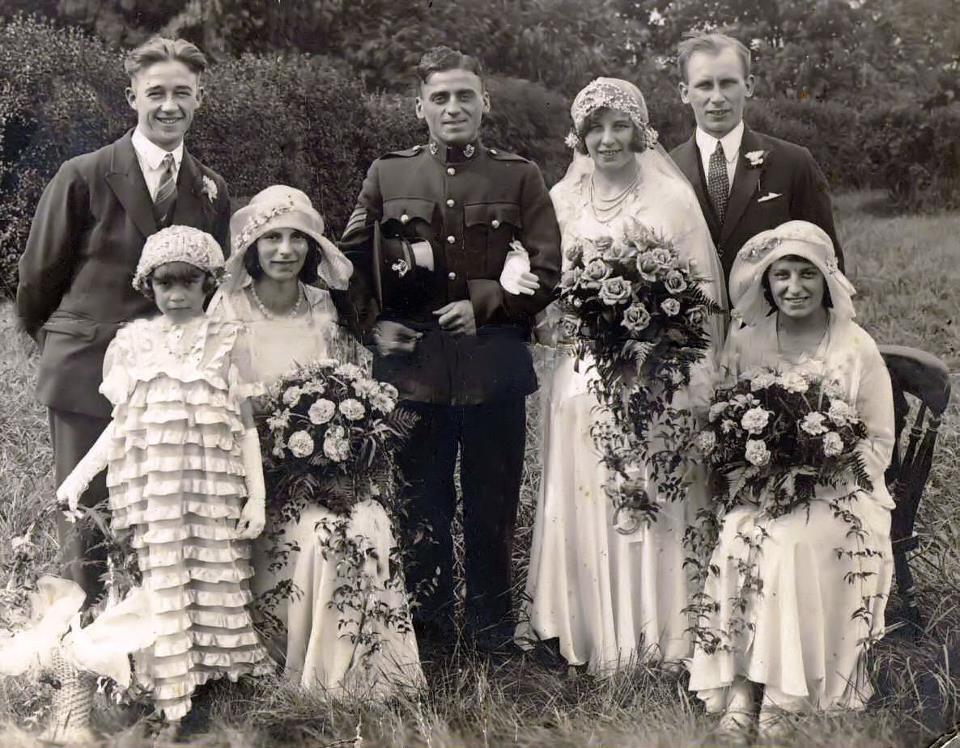 On the 27th of August 1931 Minnie Taylor was a bridesmaid at the wedding of John Jones and Margaret Millie Stacey. Minnie is seated at left.
Auntie Minnie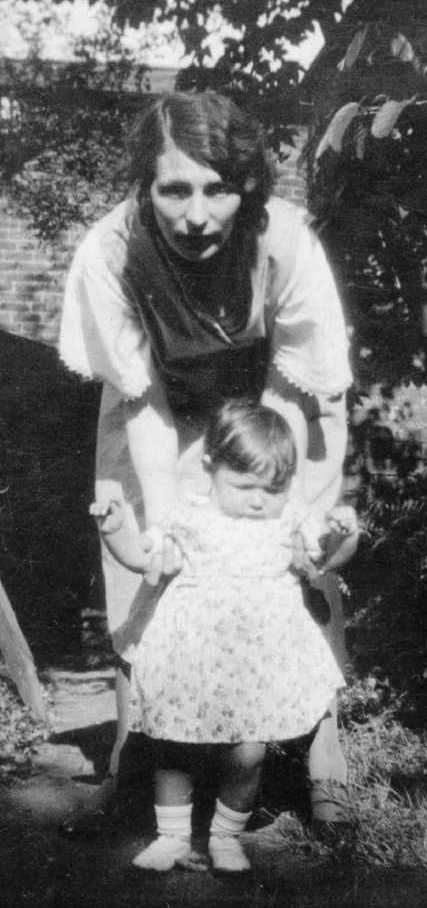 Minnie's Marriage
Minnie married Harold Gandy in 1936. They lived in Derby Road, Farnworth and son Eric was born in December 1945.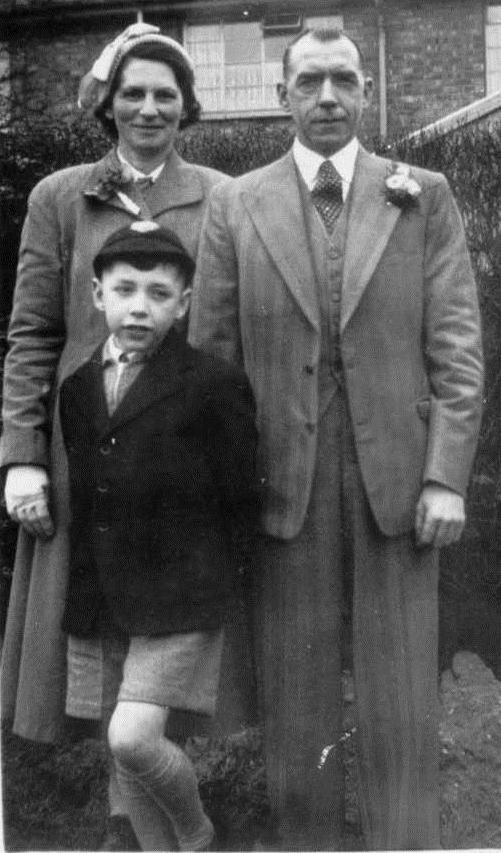 Read more about Harold Gandy here
Read about the Gandy family of Widnes here 
Minnie Rugby Fan
Minnie and her sisters were enthusiatic fans of the Widnes RFC, the "Chemics", attending both home and away games. Below on their way to the Cup Final at Wembley in 1964.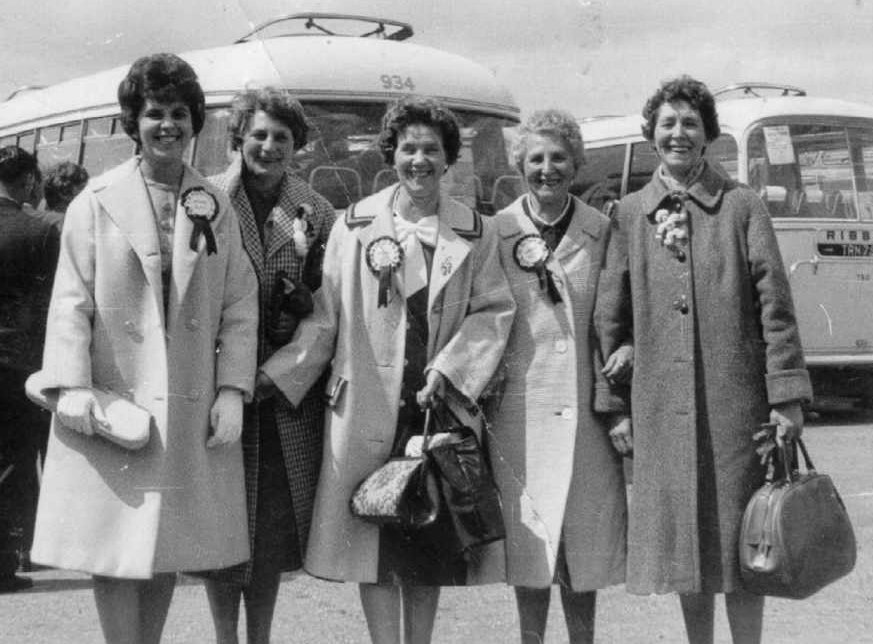 Minnie the Village Nurse
Mum's dream after the war ended was to be a district nurse in Farnworth and surrounding area, with her own little car. This sadly was not to be. I have not yet found any details of any employment after the war. She did not abandon nursing all together, looking after her mother Annie Abbott who lived nearby. In particular she helped people in the village unofficially, for example sitting at night with the terminally ill.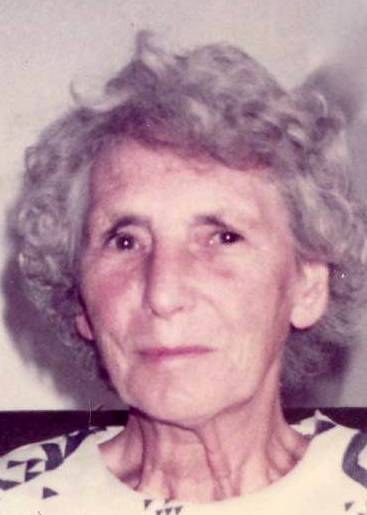 Mum died in 1989, just before her 80th birthday.