Above is the oldest photograph of a member of the Abbott family that I have found.

Mary Ellen was the daughter of John and Martha Abbott of Farnworth. In all they had seven daughters and one son, of whom six survived to become adults.  Mary Ellen was daughter number six. 
It has not been easy digging up information about Mary Ellen, outside church records, censuses, and the like. One reason is that people, including family members, who knew her were reluctant to talk about her. Others were too young to remember her clearly or passed on before I started  my research. This explains why Mary Ellen's life  – or parts of it – are still a mystery. On the following pages I describe what I have found about Mary Ellen's life so far, and hopefully tie up some loose ends.
The photograph of Grandma Henderson below was probably taken in the late 1920's or early 1930's. It was generously provided by Stan Howarth, one of Mary Ellen's grandchildren, born in 1931 – the year before Mary Ellen died.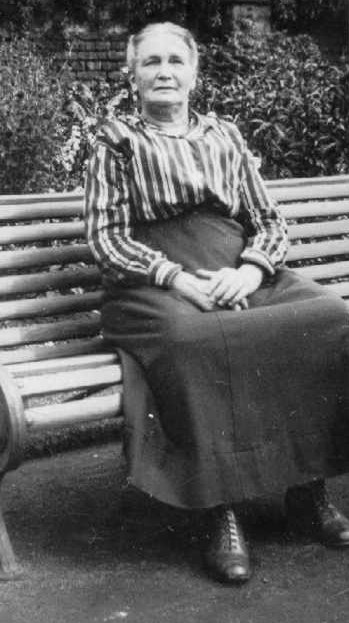 The story of Mary Ellen's life falls into three distinct periods, associated with three different places in northern England: Farnworth in Lancashire, Newcastle on Tyne in Northumberland and Oldham in Lancashire, shown on the map below.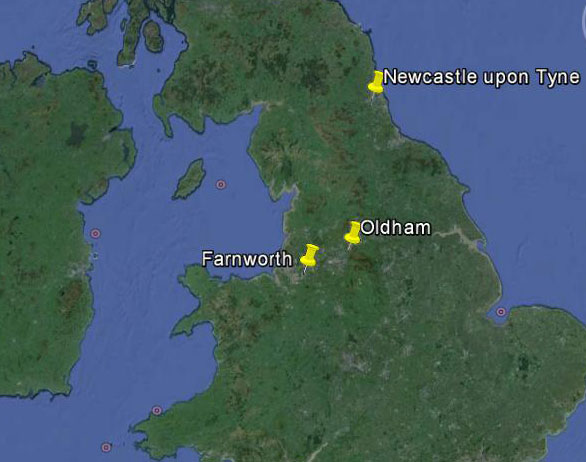 Mary Ellen Abbott was born in the village of Farnworth in 1858 and lived there until the mid-1880's when she moved to Newcastle Upon Tyne. There she married and became Mrs Henderson, forming a family. She returned to Lancashire in 1909, not to Farnworth but to Oldham and Chadderton (Ramsbottom). There she died  in 1932 age 74 and was buried in St Luke's Churchyard, Farnworth. So the circle was closed.  
On the following pages we follow Mary Ellen on her travels across  northern England.