Married life in Newcastle Upon Tyne 1886 to 1909
Mary Ellen left her first two children, Annie and James, with her parents John and Martha Abbott, their grandparents, in Farnworth when she moved to Newcastle Upon Tyne in Northumberland some time after 1881, exact date unknown. What she did between 1881 and 1886 is still a mystery.
The first record of Mary Ellen in Newcastle is her marriage to Bentley Henderson on June 29th 1886. They were married at Christchurch parish church, Shieldfield, Newcastle Upon Tyne. Mary Ellen was 27 years old, Bentley 23 years old. On the marriage certificate John Abbott, watchmaker, was noted as Mary Ellen's father and  Elias Henderson, boilermaker as Bentley's father. The witnesses were James and Mary Atherton. At the time of Mary Ellen's marriage in 1886, daughter Annie was seven years old and son James barely five.
Norma McNab, great granddaughter of Mary Ellen, married Ian McNab in the same church almost 80 years later, in 1964. Norma's parents grew up in Shieldfield, and various family members were baptized or married there including Norma and Ian's two eldest sons who were baptised there.  The church is still standing.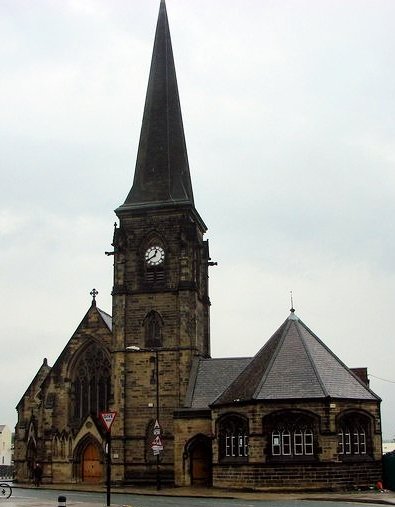 Who was Bentley Henderson?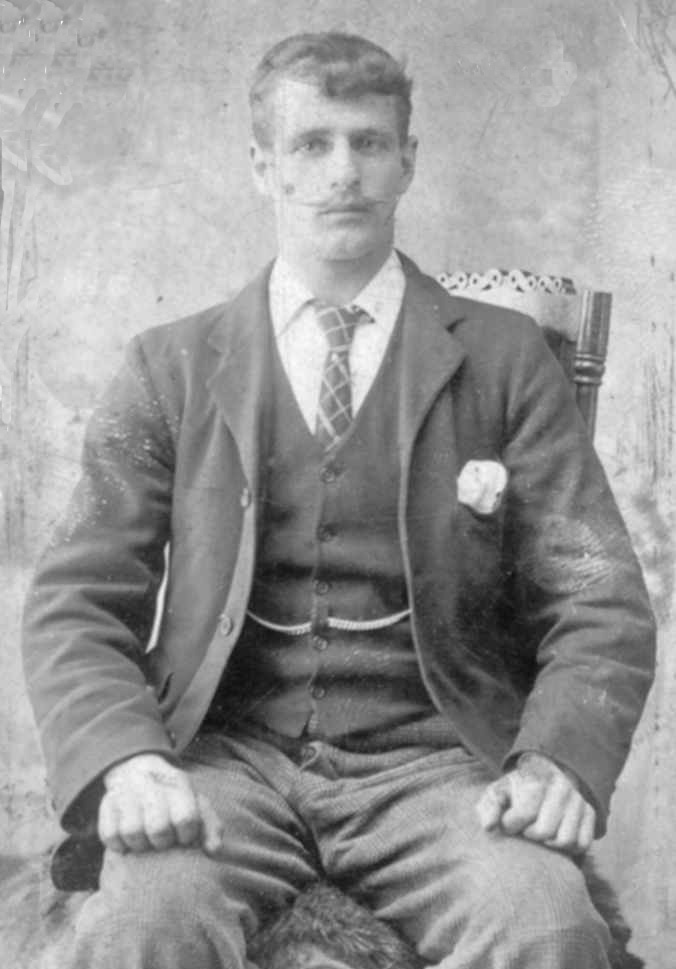 This photograph was taken by J. Cuttriss, Neville Street, Newcastle on Tyne and was found amongst my mother's effects. I have not been able to verify that this is Mary Ellen's husband Bentley, but I am pretty sure that it is.
In the 1881 census we find Mary Ellen's future husband Bentley Henderson and his family in County Durham. He was born in Gateshead in December 1863 and in 1881 was living at 161 Harriet Street in Byker, Newcastle, Northumberland. The Henderson family comprised:
Head Elias Henderson age 49, Rivetter Boiler In Boiler Iron Works, born Gateshead, Durham.
Wife Hannah Henderson, age 49, born Gateshead, Durham.
Son Thomas Henderson, age 21, unmarried, Tinsmith & Copper Lamp Maker, Gateshead, Durham
Daughter Dorothy Henderson, age 19, unmarried, Drop Maker, born Gateshead, Durham.
Son Bentley Henderson, age 17, unmarried, Apprentice Plater Iron Ship, born Gateshead, Durham.
Daughter Jane Henderson, age 14, unmarried, born Gateshead, Durham.
Daughter Hannah Henderson, age 11, scholar, born Walker, Northumberland.
Son John T. Henderson, age 7, scholar, born Gateshead, Durham.
As we shall see later, a number of the same names were  used for  Mary Ellen's and Bentley's children.
1891 census
By 1891 Mary Ellen was now Mrs Henderson and was to be found in the census for Newcastle, registered as living at 14, Stepney Bank, Byker, Newcastle On Tyne, Northumberland:
    Henderson, Bentley, Head, Married, M, age 26, Boiler Maker, born 1865 in Gateshead, County Durham
    Henderson, Mary E, Wife, Married, F, age 32, born 1859 in Widnes, Lancashire
    Henderson, Hannah, Daughter, Single, F, age 1, born 1890 in Newcastle on Tyne
Hannah was Bentley's mother's name, Hannah Henderson, who died in March 1900, 68 years old.
1901 census
Mary Ellen and Bentley Henderson were registered in the 1901 census as residing at 93 Kirk Street, Byker, Newcastle on Tyne, with five children:
Bentley Henderson, head, age 36, occupation Ship Yd Helper, born Gateshead, Durham
Mary Henderson, wife, age 42, weaver flax/linen, born Widnes
Hannah Henderson, daughter, age 11, born Newcastle 1890
Dorothy Henderson, daughter, age 9, born Newcastle 1892
Louise Henderson, daughter, age 7, born Widnes 1894
Margaret Henderson, daughter, age 5, born Widnes 1896
Ellis Henderson, son, age 3, born Newcastle 1900
In 1901 Elias Henderson, Bentley's father, widower, age 69, boiler smith, was living at 99 St. Peter's Road, Byker, Newcastle On Tyne.
Interesting here is that two of the children, Dorothy and Louise, were registered as born in Widnes in 1894 and 1896 respectively. This is further evidence that the stories of Mrs Henderson's visits to Faarnworth are true. Mary Ellen did keep in contact with her original family in Farnworth. Daughter Annie and son James would then have been in their early teens.
Bentley Henderson died on December 25th 1906 in Byker, just 42 years old, leaving Mary Ellen a widow with six children. He was buried in Byker and Heaton Cemetery on December 30th 1906. The location of Bentley's grave in the cemetery has been found (photo below), with the generous help of Bev Bagnall of the Northumberland FHS,  but there is no gravestone. Mary Ellen was left a widow with six children and probably had more pressing needs than a gravestone.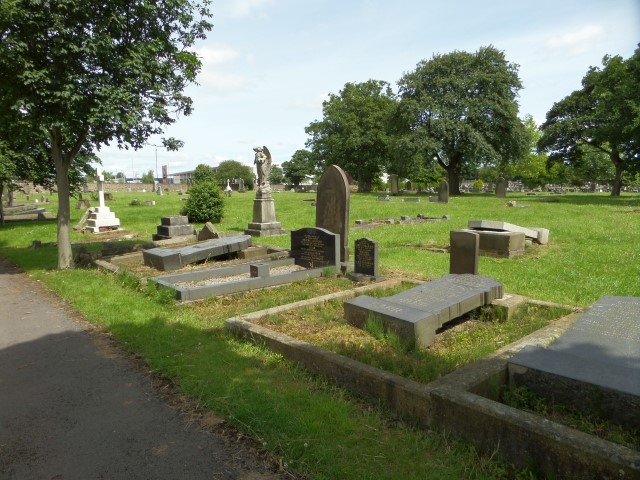 BYKER
Mary Ellen and Bentley with family lived in Byker, as did his parents. Byker was a Victorian working-class area of densely built terraces in the eastern part of the city of Newcastle, on the River Tyne. Much of the housing needed major repair and some was considered unfit for human habitation. Many houses had no bathrooms. It was redeveloped in the 1960's.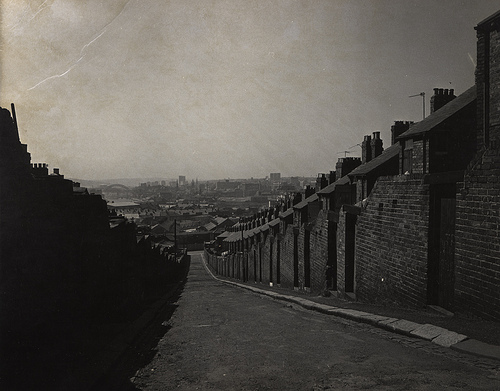 Byker – Street View
The name Byker means "settlement near marshy woodland" or "settlement near a church" and has Viking roots. The "by" part comes from the Norse "by", meaning "farmstead" or "village". The "ker" comes either from the Norse "kjerr" or "kir", where the former means "marshy woodland" and the latter is a contraction of "kirk", meaning "church".
In 1870-72 Byker was described* as a township approx. one and a quarter miles East of Newcastle with over 10,000 inhabitants and just over a thousand houses. In other words, the houses were very overcrowded. "The inhabitants are employed variously in potteries, glass-works, quarries, collieries, and other manufactories and works." There were two chapelries – Byker (1844) and Byker St Anthony (1868) in the parish of All Saints.
*John Marius Wilson's Imperial Gazetteer of England and Wales, 1872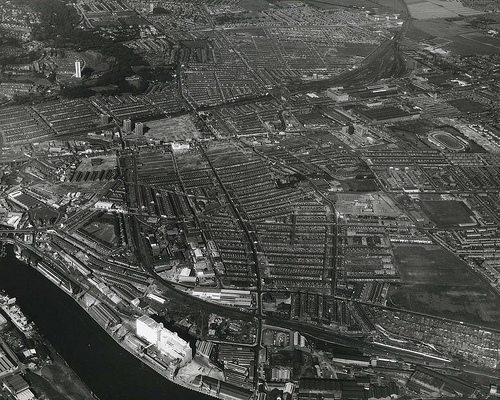 Events 1902, 1906 and 1909
In 1902 Mary Ellen's youngest daughter Ida was born in Newcastle. Then in December 1906 husband Bentley died age 42 leaving Mary Ellen a widow with six children, ages 16, 14, 12, 10, 8 and 5 years old.
Three years later, in 1909, Mary Ellen and the children crossed the Pennines again, leaving Newcastle for Chadderton, Oldham, Lancashire. Why Mary Ellen took this step and why she chose Oldham is anyone's guess, but she was probably looking for work in the Lancashire textile trade. Newcastle on Tyne was a shipbuilding and heavy industrial city. Another factor which probably influenced her decision was the death of father-in-law Elias Henderson in June 1909, age 76 yrs. On his death Elias Henderson lived in the parish of All Saints. Mary Ellen's mother-in-law Hannah died earlier, in 1900, age 68 yrs. So there were no more family links with Newcastle to keep her there.
Between 1896 and 1909 Mary Ellen suffered the loss of:
her mother Martha Abbott in 1896

her mother-in-law Hannah Henderson in 1900

her husband Bentley Henderson in 1906

her father John Abbott in 1908

her father-in-law Elias Henderson in 1909
By 1909 she was alone with her eight children, from Annie Abbott aged 30 to Ida Henderson who was seven years old.