Mary Ellen and Bentley Henderson's children
There were six Henderson children, five daughters Hannah (named after grandmother), Dorothy (after aunt), Louise, Margaret, Ida and son Ellis (after grandfather Elias).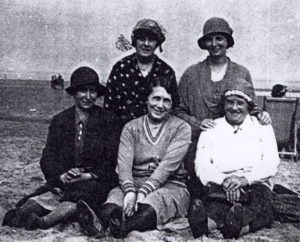 Front l-r Hannah, Margaret, friend. Back l-r friend, Louise
Hannah and Louise Henderson
Hannah and Louise did not marry.
Dorothy Henderson
Dorothy Henderson married James Wood and their son is John Bentley Wood (see photo on previous page) often called Jack.
Stan Howarth:
"The small boy with Grandma Henderson is my cousin John Bentley Wood, Aunty Dorothy's son, who is also your Mother's cousin. Obviously named after Bentley Henderson. He is seven years older than me and won a D.S.M. during the war whilst taking part in the allied landings at Anzio in Italy. He was in the Navy serving on Tank Landing Craft. Aunty Dolly stayed on in Ramsbottom with her husband and son Jack".
Margaret Henderson
Margaret Henderson married Walter Gilbert. They had no children.
Stan Howarth:
"Aunt Maggie married and stayed in Oldham with her husband when the rest of the family moved to Formby. Her husband Walter died in the war, so sister Louise (Aunt Louie) went back to Oldham to help Margaret in her shop."
Ellis (Elias) Henderson
Ellis (Elias) Henderson married Clara Mayhew and they had son Ellis and daughter Doris.
Stan Howarth:
"When Uncle Ellis Henderson came out of the Navy after WWI (after 20 years' service) he served his time as a bricklayer with the firm who built Grandma Henderson's house in 85, Wellington Street Chadderton. When he married Barbara they moved to Thornton-Cleveleys near Blackpool."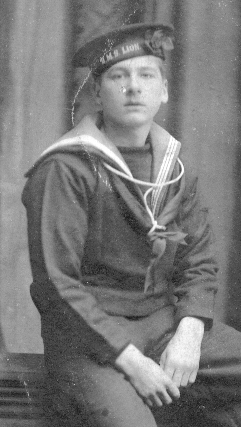 Ellis Henderson served on HMS Lion in the Royal Navy and was best man at the wedding of his sister Ida, see photograph below.

A later photograph of Ellis can be found here.
Ida Henderson
Ida Henderson married Arthur Howarth in 1926 and they had one son, Stanley.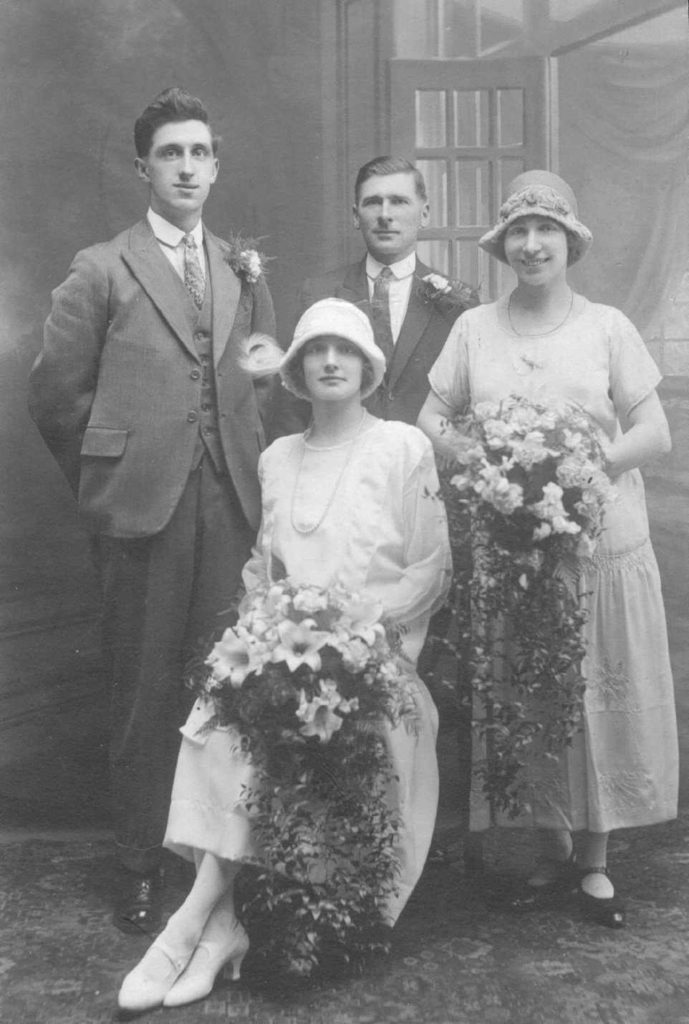 Seated: Ida Henderson. Standing  l-r Arthur Howarth, Ellis Henderson, Margaret Henderson Gilbert
Stan Howarth:
"Grandma Henderson's house was 85, Wellington Street, Chadderton. The address where I was born was I think number 87, Wellington Street. I think the family moved next door because it was slightly bigger in some way. We lived with Grandma Henderson until she died (1932) and we eventually moved to the chip shop in Glodwick because my Dad had been out of work for 3 years I think when the mill closed down. Mum's sisters lent my Dad the money to rent the Chippy in Glodwick and so they came with us to Formby in June 1936."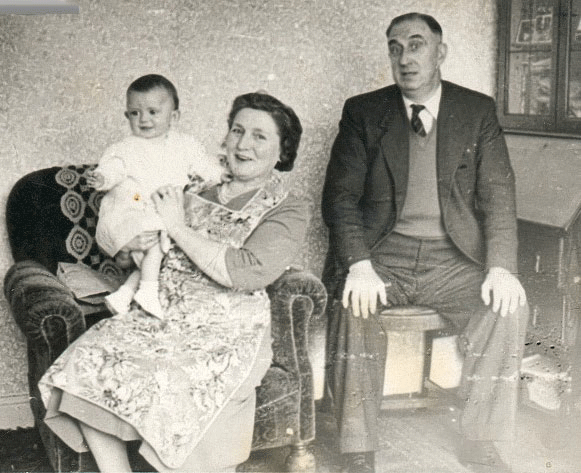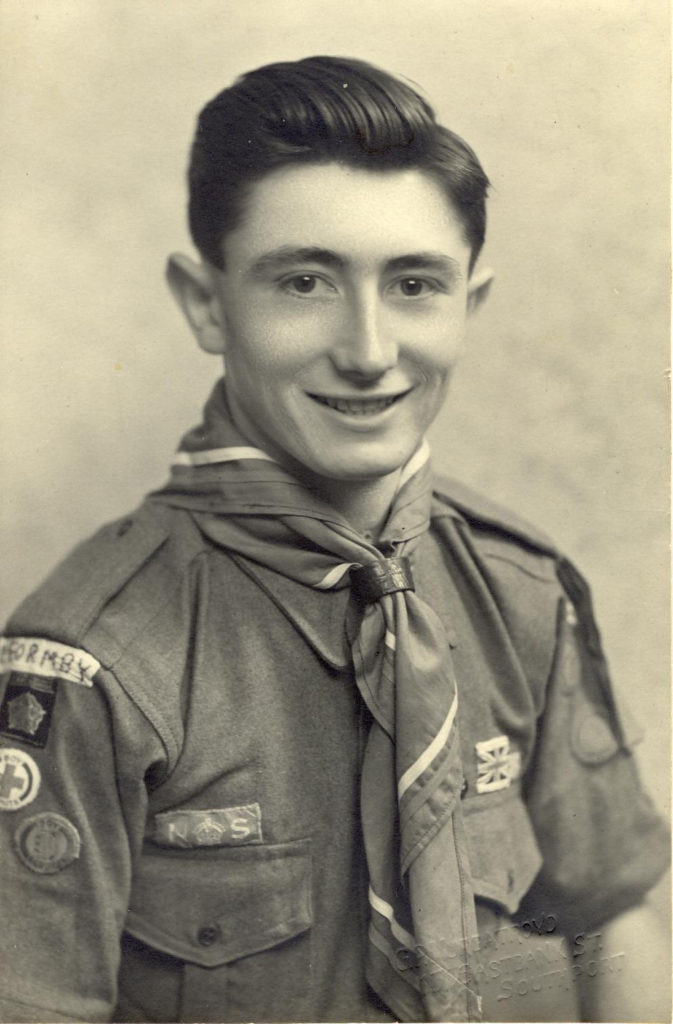 Stan Howarth, above, son of Ida Henderson and grandson of Mary Ellen, provided most of the information and photographs on this page.