The last Will and Testament of Nathan Abbott of Bold in the County of Lancaster Inn Keeper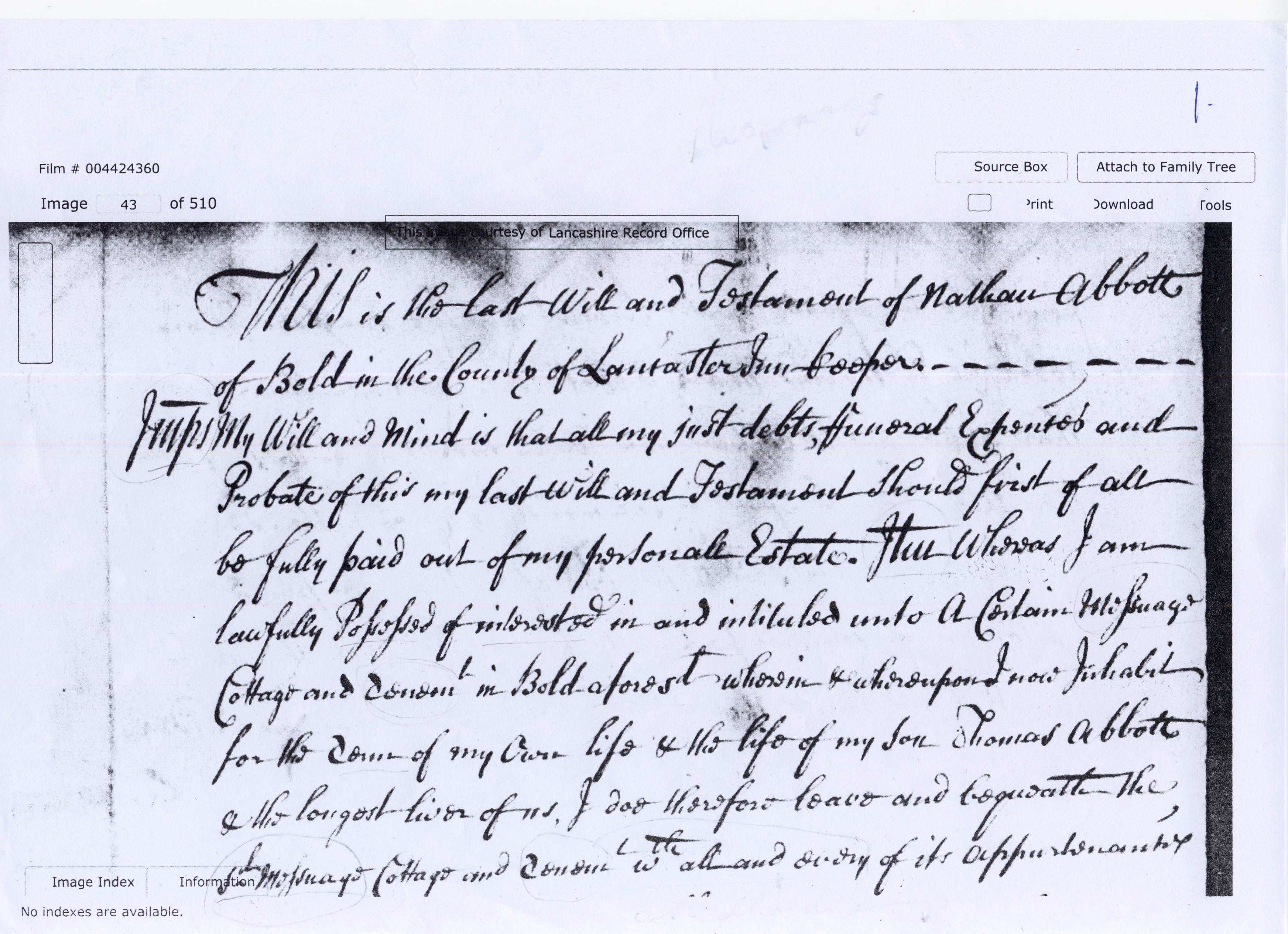 Nathan Abbott is the earliest member of our Abbott family tree. Recently, with the help of the Family History Centre in Stockholm, I found a film with Nathan's "Last Will and Testament" from 1727, which provides hitherto unknown information about Nathan's family and circumstances. I have tried to transcribe the will, which has been quite difficult and there are still some gaps – words, place names and some text in Latin which I have not been able to decipher. Below details from the will have been combined with information from the Lancashire OPC database for St Elphin's parish, provided by Dorothy Follis .
The most interesting revelation in the will is that Nathan married twice and had children with both wives. Nathan's first wife was Alice Lowe, born 1683. They married on the 25th of December 1699. Nathan and Alice had four children:
Nathan, born 3rd of October 1700, christened the 13th of October 1700,  died on the 22nd of October 1704, just four years old.
Anne, born the 5th of March 1704
Thomas, christened the 17th of October 1705
John, born on the 24th of August 1708.
Alice Abbott died in 1708 and was buried on the 1st of December, only 25 years old.
On the 24th of February 1709, Nathan remarried. His second wife was Mary Betley. Nathan and Mary also had four children:
Ann, born on the 27th of November 1709. She died on the 18th of December the same year, just three weeks old.
Mary, born on the 2nd of November 1710
Anne, baptised on the 4th of April 1714
Maria, baptised the 15th of February 1716.
Persons Named in the Will
The will was written in 1727 when Nathan died, age 48 years. Nathan refers to his "Loving Wife Mary Abbott", sons Thomas, Edward and John, and daughters "Mary Abbott the elder and Mary Abbott the younger". This would be Mary b 1710 and Maria b 1716. I have found no details of son Edward. Daughters Ann and Anne are not mentioned in the will and were presumably no longer alive in 1727.
Thomas, the eldest living son, inherited his father. Thomas had nine children between 1730 and 1750. There is a Thomas Abbot of Farnworth who was buried the 5 May 1760 according to the church records, which could be him. The will contains provisions for wife Mary, sons John and Edward, and daughters Mary and Maria ("equally divided share and share alike amongst all my the surviving children who then ? by my first or second wife.".  Wife Mary could be the "Widow Mary Abbott Bold died 19th November 1738" found in the church records for Farnworth Church.
Others persons mentioned in the will are two neighbours: Robert Knowls and Richard Travifs who are appointed trustees by Nathan. Witnesses were John Haddock, Thomas Esich?? and J.W Cawley. Nathan signed with his X-mark. The appointment of Knowls and Travifs was certified (in latin) by Johan Mapletoft Sarro??
Nathan's Property
In his will, Nathan refers to two pieces of property in Bold, a small village situated between Farnworth and Warrington.
"My Will and Mind is that all my just debts, funeral Expenses and Probate of this my last Will and Testament should first of all be fully paid out of my personal Estate. Whowas I am lawfully possessed of interested in and entitled unto A Certain Mosswaye?? Cottage and ? in Bold afored wherein & whereupon I now Inhabiting for the course of my Own life & the life of my son Thomas Abbott and the longest liver of us, I do therefore leave and bequeath the Sch? Mosswaye?? Cottage and all and every one of its appurtenances unto my Loving Wife Mary Abbott during the course of her natural life if my Estate herein ??? so long continues. Whereas/whowas? I am likewise possessed of and entitled to a Certain Close??? of Land in Bold afored Called the NewLay which I lawly purchased from Thomas Blackburn of Bold afored (aforesaid?). I do therefore leave and bequeath the Close ?? of Land with all and every its appurtenances unto My Said Wife Mary Abbott during the course of her natural life if my Estate therein? so long continue ? after the death and demise (?) of my Wife Mary Abbott. It is ?? my will and mind and I do hereby leave ? and bequeath both my Mosswayes Cottage and ?? as also the Close ?? of Land".
(The name of the cottage is difficult to decipher and the spelling uncertain.)
The source of the will filmed by LDS is given as the Lancashire Record Office, film number FHC004424360, images 43 and 44 of 510. I found the reference on a will index for Lancashire gleaned from a Widnes genealogy group on Facebook. www.user.xmission.co.
Abbotsfield Farm and Travers Farm
Today, over three hundred years later, there are still two farms in the area which have names which can  be linked to the property mentioned in Nathan Abbott's will, namely Abbotsfield Farm (possibly Nathan property) and Travis Farm (Travis was one of the trustees apppointed in the will).
Dorothy Follis, a distant member of the Abbott family, took a walk in the area and kindly sent the photographs of the two farms shown below. Information from the current owners of Abbottsfield Farm to   Dorothy Follis is that there have been no Abbotts living at the farm since at least 1900.