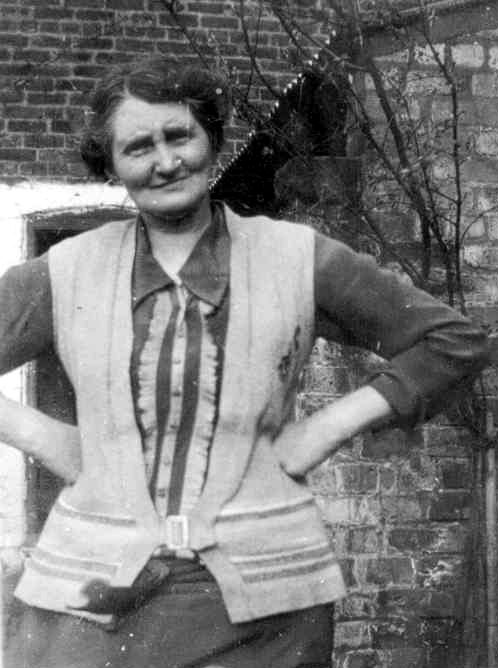 Annie Abbott was my grandmother (Nan), a remarkable woman, a survivor, as the story below shows.
1879
Annie Abbott was born on the 23rd of February 1879 at Farnworth Street and her birth was recorded at St Wilfrid's Church on March 22nd 1879. The entry of birth in the records gives Mary Ellen Abbott, a weaver, as Annie's mother. The columns for father's name and father's occupation are crossed over.
Annie was baptised at St Wilfrid's on March the 6th 1879. The church record of the baptism confirms that Annie is the daughter of Mary Ellen Abbott, "a single woman". Annie was baptised by the vicar at St Wilfrid's, George Holloway.
1880
Annie's younger brother James (Jim) Abbott was born in 1880 and baptised on November the 23rd at St Wilfrid's Church in Farnworth by curate Jos Holden. The record includes the initials PB, which means baptised at home. The record also states that James is the son of Mary Ellen Abbott. No father is given in the record.
1881
Mary Ellen age 22, unmarried and working as a canvas weaver, lived with her parents, father John Abbott age 52 yrs and mother Martha Abbott age 53 at 33 Church Street, Farnworth, and her children Annie, two years old, and James, just 8 months. They were  born out of wedlock, father(s) unknown. Father John was occupied as a watchmaker. In the household were also Mary Ellen's younger sisters Martha age 20 yrs, also a canvas weaver, and Isabella age 14 yrs.
1891
When Mary Ellen moved to Newcastle and married Bentley Henderson in 1886, she left daughter Annie seven years old and son James five years old with her grandparents John and Martha. They had in effect become the parents of Annie and James. By 1891 Mary Ellen's parents John and Martha Abbott had moved to 74 Church Street, Farnworth, with granddaughter Annie now 12 yrs and grandson James 10 yrs.
Mary Ellen did return to visit her family in the old village. Margery Lewis of Coroner's Lane, Farnworth tells me that Mrs Henderson (as she was known in the village) stayed with the Young family in Farnworth Street on these occasions. Margery's grandma Young, Sarah Ellen Abbott the daughter of Henry and Kate Abbott, ran a chip shop in the village.
In 1891 grandfather John Abbott's occupation was recorded as market gardener. He had a smallholding on the fields behind Farnworth Church, where he grew vegetables. These he sold on a small market stall at St. John's Market, Liverpool and grandmother (Nan) Annie Abbott told us how she sat on the cart behind the horse with her granddad all the way to market – a round trip of 24 miles.
1901
Grandfather John Abbott was still living at 74 Farnworth Street in 1901, but now a widower age 73 yrs after the death of wife Martha in 1896. He was still working as a market gardener. Youngest daughter Isabella and her husband Robert McKie plus their five children made up the household.
By 1901 Annie Abbott age 22 yrs had moved away from home and was working as a domestic servant in the household of widow and pub/innkeeper Sarah E Morris at 3 Witt Road, Widnes. The building is still there, now called The Doctors, but no longer a pub.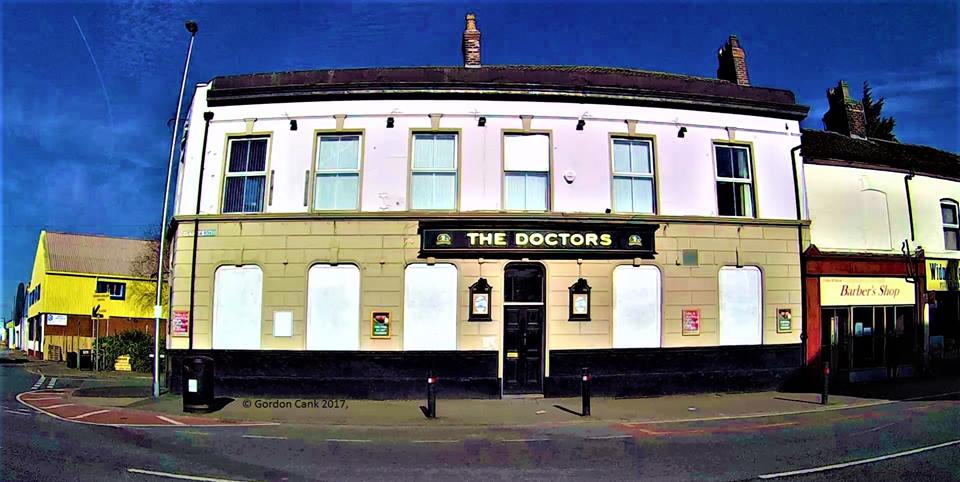 1902
Annie Abbott married Walter Taylor on May 19th 1902 at St. Paul's Church, Widnes. On the marriage certificate her address is given as 31 Luton Street Widnes and her father as John Ward, labourer. On her birth certificate the space for father's name was however crossed over. She was brought up by her grandparents John and Martha Abbott, and John Abbott was probably her ward of court. Perhaps John Ward is a euphemism. I have found no evidence that Annie and James were adopted by their grandparents, and also no trace of anyone living in Farnworth of the name John Ward. 
Walter Taylor (my grandfather)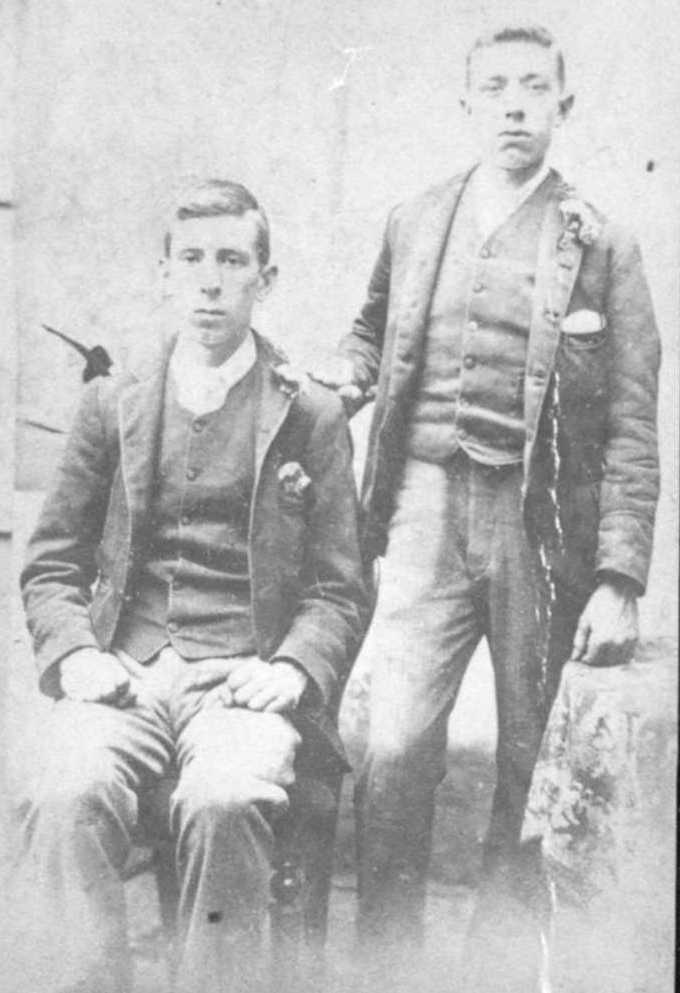 Walter Taylor, my grandfather and husband of Annie Abbott was one of eight children to William and Margaret Taylor (maiden name unknown). William (1843) and Margaret(1847) were both born in Sutton and in 1881 William, 38 years old, was a railway engine driver. They lived first at 10 Witt Road, Widnes but by 1901 they had moved to 35 Witt Road. In 1901 Annie was working as a domestic servant at the pub at 3 Witt Road. The connection between Annie and Walter was thus as neighbours in Witt Road, Widnes.
Walter (Nath) was born in 1877 in Widnes, as were all his brothers (John, William, Alfred, Isaac, Harry) and sisters (Mary, Margaret). In 1901 Walter's occupation was given as Alkali chemical worker – he was then 25 years old. Brother Alfred (see photo above) was a railway engine cleaner. Father William was still an engine driver.
Annie and Walter had five children: Helen (Nellie) born in 1903, William (Bill) born in 1905, Isaac (Ike) born 1907, Minnie (my mother) born 1909 and Dorothy born 1911. All were baptised at St Paul's Church. During these years the Taylor family moved around in Widnes: in 1903-05 they lived at 6 Bradshaw Street, in 1907 at 47 Moor Lane and in 1909-11 at 9 Esther Street.
1908
Annie Abbott's "Nan's" grandfather John Abbott died in december 1908, age 80 years. He lived to see her married and raising a family. Walter's younger brother Alfred, engineer, died in an accident in 1908, age 28.
1911
In 1911 Annie Abbott Taylor age 32 was living at 9 Esther Street, Widnes, with husband Walter Taylor age 34, copper labourer and four children, Helen age 8, William age 6, Isaac age 4 and Minnie age 2 yrs, all born in Widnes. Fifth child Dorothy was born in 1911.
Walter died the same year, age 35, of double pneumonia according to the death certificate. The informant was his brother William Taylor of 50 Regent Street, Runcorn. Walter's death left widow Annie Taylor alone with five children, from newly born Dorothy to 8 year old Helen (Nellie). Widow Annie and the children moved back to number 11 Farnworth Street, date unknown, to the village where she had family and relatives.
In March the same year, 1911, Walter's father Wiliam Taylor (my great grandfather) also died age 68. Mother Margaret died in January 1931 age 84.
Read about Annie and the five children in Farnworth here
Read about little brother James (Jim) Abbott here