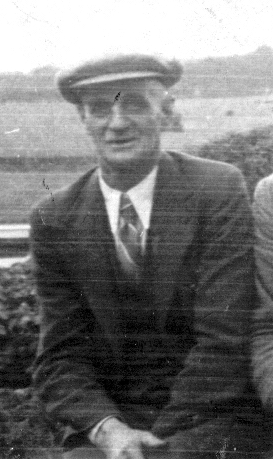 James (Jim) Abbott was unfortunately someone I never met, even though he was my Nan's younger brother. One reason could simply be that he lived in Newcastle, despite the many contacts between the different branches of the Abbott family in Farnworth, Newcastle and Oldham. See Connections.
Most of what I have learnt about Jim Abbott and his family comes from his granddaughter Norma McNab, who has provided much of the information and photographs presented here.
1880-81
Jim Abbott was born in 1880 and baptised on November 23rd at St Wilfrid's Church in Farnworth by Jos Holden, curate. (In fact the records noted PB, which means baptised at home). The record also states that he is the son of Mary Ellen Abbott – no father is given.
In the 1881 census James lived with mother Mary Ellen, older sister Annie and grandparents John and Martha Abbott at 33 Church Street, Farnworth.
 1891
In 1891 James age 10 and Annie age 12 were still living with their grandparents, John and Martha, at 74 Farnworth Street, but mother Mary Ellen was now Mrs Henderson, married to Bentley Henderson, and living in Newcastle. She left James behind in Farnworth when he was about five years old and sister Annie was seven years old.
 1901
In the 1901 census we find Jim age 20 years living with his aunt Martha Abbott, Mary Ellen's younger sister, and family (Alfred Walker, engine driver) at 31 Luton Street Widnes and working as a general labourer.
His wife to be Elizabeth Weddell was 16 years old in 1901, single and living at 76 Stepney Lane, All Saints, Newcastle with mother (widow) Clarinda Weddell, sisters Ellen and Clarinda and brothers William, John and James. Elizabeth was working as a "tobacco stripper". She was born in Morpeth, a small town about 15 miles north of Newcastle, as were brothers John and James.
 1901-1907
Jim moved from Widnes to Newcastle some time between 1901 and 1907, which means he was there at the same time as his mother Mary Ellen with her six children and husband Bentley Henderson. Bentley died in 1906.
1907- 1909

On Saturday September 7th 1907 James (Jim) Abbott married Elizabeth (Lizzie) Weddle at St. Ann's Parish Church, Newcastle. In official records the family name was sometimes spelled Weddell, other times Weddle.
Marriage certificate details: James age 27, lived at 41 Howard Street, occupation labourer, father given as John Abbott (deceased), labourer. (John Abbott was his grandfather and a watchmaker/market gardener, not a labourer.) Elizabeth Weddle, age 23, spinster, lived at 21 Richmond Street. Her father was James Weddle (deceased), French polisher.
After Bentley's death, Mary Ellen eventually moved back to Oldham in Lancashire in 1909. Jim remained in Newcastle with wife Elizabeth (Lizzie).
1911
In the 1911 census James (Jim) Abbott, wife Elizabeth and two daughters were recorded living at 11 Union Street Newcastle upon Tyne:
James Abbott, head, age 30, carpenters labourer shipyard, born Widnes
Elizabeth Abbott, wife, age 26, tobacco spinner, born Morpeth, Northumberland
Annie Abbott (Anne), daughter, age 3, born Newcastle upon Tyne.
Alice Abbott, daughter, age 1, born Newcastle upon Tyne
Third daughter Elizabeth Abbott (Betty) was born in 1922.
1950's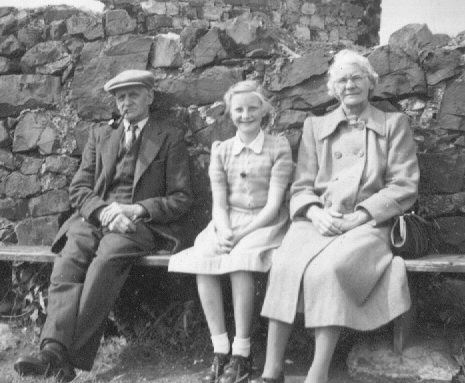 1963-1970

Jim's wife Lizzie died in 1963. Eldest daughter Anne, who was living with them, took care of her father for several years. They lived at 203 Helmsley Road, Newcastle upon Tyne – in the eastern part of the city about a mile from the city centre.
Jim spent the last few months of his life in a nursing home in Ponteland, near Newcastle, where he died on the fourth of September 1970. Informant was daughter Elizabeth Petter, then residing at 100 Jefferson Street, Newcastle upon Tyne.
James was cremated and his ashes spread in the garden of remembrance at Newcastle Cemetery.
According to Norma McNab, Jim was pretty healthy apart from the last year or so, although somewhat hard of hearing, but then he seemed to need more care than Anne could manage. She herself had heart problems and died a few years later – in 1976.